Astros' Justin Verlander has heated exchange with Red Sox Manager Alex Cora
Alex Campbell
FiredUp Network Sports Writer
Wednesday, August 23, 2023
---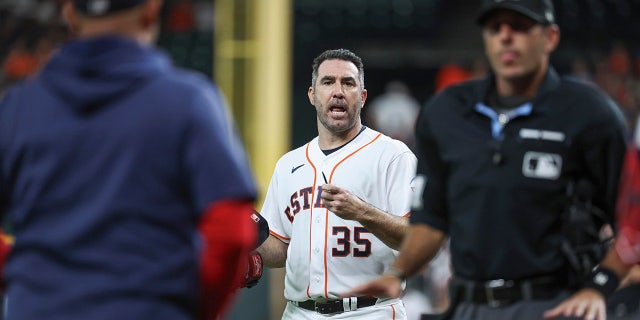 Photo by Troy Taormina - USA Today Sports
Alex Cora and Justin Verlander won a world series together in 2017. Verlander was the ace on that world series championship Astros team and Cora was the teams bench coach. Last night, however, the comradery looked all but gone.
In the top of the second inning last night in Houston, facing off against the first batter, Verlander was called for a pitch clock violation – which by the rules would result in an automatic ball. But Verlander immediately argued the call, the broadcasters at AT&T Sportsnet pointed out that he was having issues with his PitchCom device, which is the way pitchers and catchers communicate in game.
As Verlander addressed the Homeplate umpire, a ball boy ran out and appeared to hand Verlander a new transmitter. During that moment the Red Sox manager Alex Cora, who was a central character in the Astro's sign stealing scandal, stepped onto the field and approached the Umpire and Verlander. It wasn't entirely clear who he was speaking with as he approached them, but the exchange prompted an angry, explicit filled outburst from Verlander.
The ball penalty from the pitch clock violation was waived off and as Cora stood there arguing with the umpire, the camera zoomed in on Verlander as he clearly said, "F—k off, Alex"