World Series Game 4: Rangers win again, now sit one win away from the Crown
Alex Campbell
FiredUp Network Sports Writer
Wednesday, November 1, 2023
---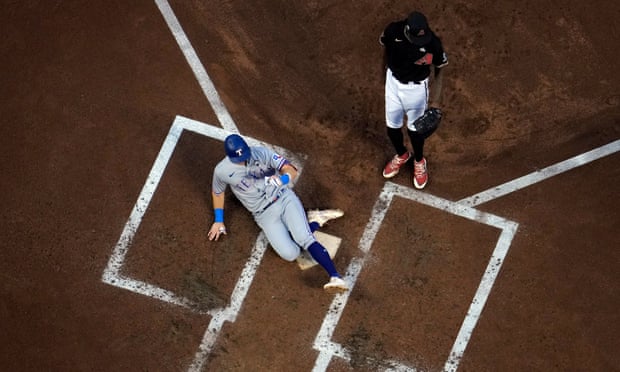 Godofredo A Vasquez/AP
PHOENIX, AZ - The Texas Rangers got up big early and steamrolled the Diamondbacks 11-7 in game 4 of the World Series on Tuesday night. Before the game it was announced that Texas would be without ALCS MVP Adolis Garcia and deadline-HOF pitcher addition Max Scherzer for the remainder of the series, but the shorthanded Rangers would not be denied.
Texas led 10-0 after just three innings thanks in large part to the $500 million infield pair of Marcus Semien and Corey Seager. In the second inning, Semien hit a two-run triple followed by Seager's two-run home run, and the Rangers jumped out to a five run lead. Then in the third, Semien hit a three-run homer and broke it wide open. Jonah Helm added a home run in the eighth innings as well. The D-Backs clawed some runs back late behind a heroic performance from Lourdes Gurriel Jr.. He had four RBIs, including an eighth-inning three-run homer of his own.
This marks yet another road victory for these Rangers who move to 10-0 away from home this October. That's not just a playoff record, it's the first time a Texas team has ever won 10 straight road games in the regular or postseason. It was also the first time in this series that their offense looked like itself, pouncing on the D-Backs early and often and suffocating them to victory. After a choppy start over the first three games, these were the Rangers we'd seen all month long.
The win brings Texas to an all too familiar place: on the precipice of a World Series title, just nine innings away from ending more than four decades of futility. The last time the Rangers were in this spot, it didn't go so well. But this is not 2011, and David Freese is retired.
Nathan Eovaldi will take the mound for the Rangers in Game 5, he's shown time and again that he knows what to do in these moments. For Arizona, meanwhile, they've been here before: backs against the wall, written off by just about everyone. They've shocked the world before and they'll need to do it again starting Wednesday night to win this series.