Comebacks and blowouts define Week 11 games in the late window
Alex Campbell
FiredUp Network Sports Writer
Monday, November 20, 2023
---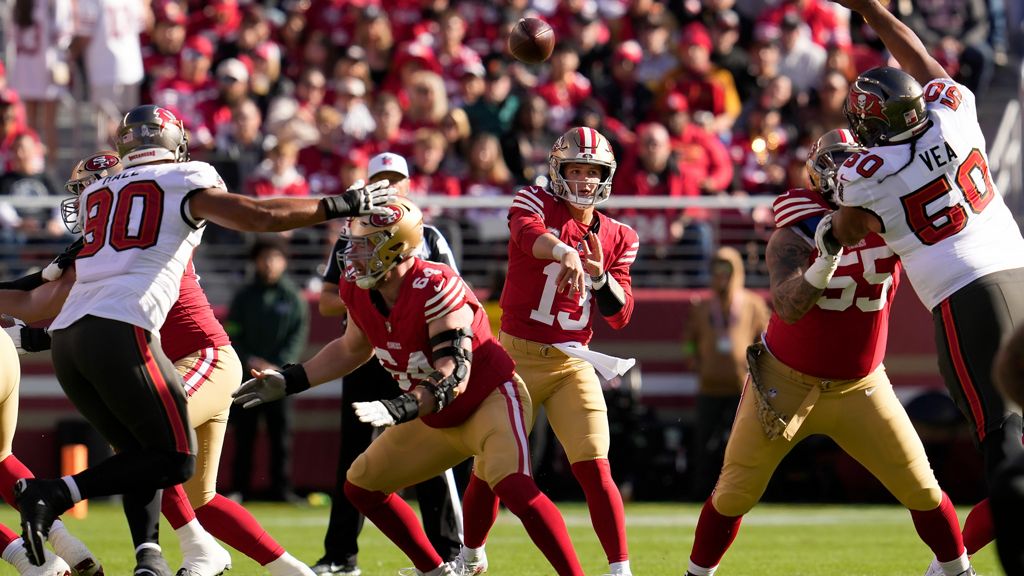 AP Photo/Godofredo A. Vasquez
Bucs (4-6) 14
49ers (7-3) 27
Brock Purdy was nearly perfect against Tampa Bay on Sunday, completing 21 of 25 passes for 333 yards and three touchdowns – highlighted by a gorgeous 76-yard touchdown heave to Brandon Aiyuk. Purdy was sharply focused on the rebound effort going into this one, after a 3-game losing streak.
"We had to get back to 'We're going to take it,'" he said. "That's the chip I was talking about. We had to get back to that"
AP Photo/Rusty Jones
Jets -(4-6) 6
Bills (6-5) 32
The Bills mollywhomped the Jets 32-6 in a battle of AFC East rivals. Buffalo claws back above. 500 with the win, and Zach Wilson was benched because he played so poorly. Right out of the gate, the Jets put itself behind the eight-ball as Xavier Gipson fumbled the opening kickoff that gave the Bills the ball inside the red zone, and it just didn't get much better for New York from there. Allen went 20/32 with 275 yards and 3 touchdowns with 1 interception. Although the win puts Buffalo back on the right track, they did lose 2 key members of their secondary to injury: Taylor Rapp suffered a neck injury and was taken away from the game by Ambulance, but now reports show that he is resting at home. Just before halftime CB Taron Johnson collided with Jets RB Breece Hall, was taken out of the game, and will miss next week's contest against the Eagles.
AP Photo/Ashley Landis
Seahawks (6-4) 16
Rams (4-6) 17
The Rams rallied from a late deficit and snapped their 3-game losing streak with a 17-16 win over the Seahawks. Matthew Stafford left the game after taking a massive hit to the chest on a flea-flicker while throwing an interception with his Los Angeles Rams already trailing by nine points in the fourth quarter. Luckily, he just had the wind knocked out of him, and when he got back in the game, he led the Rams to his first fourth-quarter comeback victory since he did it in the Super Bowls 2 years back. Rams' kicker Lucas Havrisik made a 22-yard field goal with 1:31 to play, then Jason Myers missed a 55-yard attempt for the Seahawks with just 3 seconds remaining that would have won them the game.
Andy Cross/The Denver Post
Vikings (6-5) 20
Broncos (5-5) 21
Russell Wilson continues to look more and more like his old self, on Sunday night he went 27 of 35 for 259 yards, with a touchdown, and no turnovers. It wasn't all smooth sailing for the Broncos though, they were only able to run for 46 yards and Wilson was sacked twice. But Russ never lost faith in his sputtering offense whose first nine drives ended with Wil Lutz kicking five field goals and Riley Dixon punting four times. "We just believe in each other… We knew we were going to win this game," Wilson said after driving Denver on it's only touchdown drive in the closing minutes for the 21-20 victory over Minnesota, ending the NFL longest winning streak at five games. Courtland Sutton's leaping 15-yard touchdown catch with 1:03 left was the difference for Denver, which now owns the league's longest winning streak at four.