No Harbuagh, No Problem
Alex Campbell
FiredUp Network Sports Writer
Saturday, September 2, 2023
---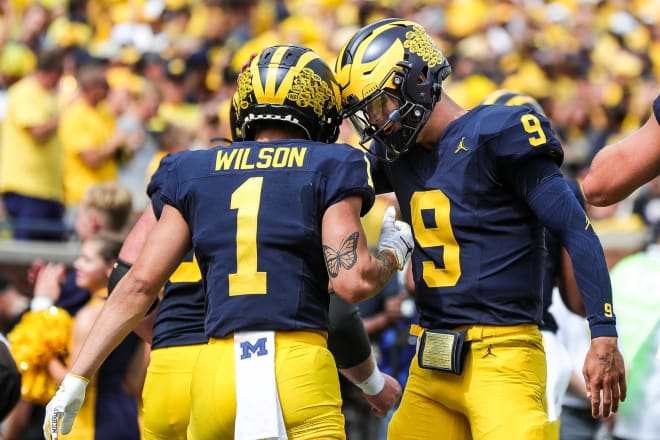 Photo by Junfu Han, Detroit Free Press
With head coach Jim Harbaugh serving a 3-game suspension, and Harbuagh deciding to have a rotation of HCs in his stead it was Jesse Minter on the mound in week 1.
The Wolverines we're a little sluggish at the onset but then QB J.J. McCarthy started slinging it to Roman Wilson for deep bombs and touchdowns, Michigan's defense turned in a dominant performance, and the Wolverines cruised to a 30-3 victory over East Carolina.
Wilson finished with 6 catches, 78 yards, and 3 touchdowns. Blake Corum went for 73 yards on 10 carries, looking like his old self again. His counterpart, Donovan Edwards struggled a little rushing the ball, with 12 carries for just 37 yards, but he was also involved in the pass game and had 4 catches for 33 yards. J.J. McCarthy was sensational going 26/30 (87%) for 280 yards and 3 touchdowns.
Defensively, the wide reciever turned Nickel back, Mike Sainristill, had an interception. Junior Colson, Keon Sabb, Michael Baret and Ernest Hasuman each had five takcles.
There was a new Kicker in town; with the 2021 Groza award winning Jake Moody now on the 49ers, Michigan turned to Louisvile transfer, James Turner who had a 50-yard field goal into the wind, but missed on a 52 yard attempt later in his Ann Arbor debut.
East Carolina didn't score until the final play of the game when Andrew Conrad hit a 33-yard field and prevented the shutout.
McCarthy, Corum, and Edwards only played 3 quarters and the Wolverines didn't attempt a pass in the 4th. The 6'3" grad student WR, Cornelius Johnson put on a show of his own with 5 catches for 71 yards, and Sophomore tight end Colston Loveland played well as a blocker and a reciver.
All in all, it was a great start to the season for Michigan came in ranked 2nd in the country, behind only #1 Georgia. Up next for Big Blue and the winged helmets are the UNLV Rebels who we're dominant as well today, thumping The Bryant Bulldogs 44-14. They'll visit the Big House riding high off that performance, but with the daunting task of matching up against a loaded Michigan team with national title hopes.