Three once-forgotten QBs win with 4th quarter herorics in the late window
Alex Campbell
FiredUp Network Sports Writer
Monday, November 13, 2023
---
Kyusung Gong/Associated Press
With both offenses firing on all cylinders, matching touchdown for touchdown, the Lions hardly had a choice facing a fourth-and-short with under two minutes remaining in a tie game with the Los Angeles Chargers on Sunday. Goff worked through his reads quickly and found rookie TE Sam Laporta in a sliver of space for the conversion, Then he took three knees to drain the remaining clock, setting up Riley Patterson to kick a 41-yard game-winning field goal and Detroit escaped a wild west 41-38 shootout at Sofi Stadium.
Up Next:
Chicago (3-7) vs Detroit (7-2), Ford Field, 1pm EST
Los Angeles (4-5) vs Green Bay (3-6), Lambeau Field, 1pm EST
AP Photo/Tony Gutierrez
The Cowboys kicked the snot out of the Giants for the second time this season, this time 49-17 at Jerry's World in Dallas. In the season Opener Dallas beat New York 40-17 at Metlife, and the Giants are in even worse shape now than they were then. Rookie Giants QB, Tommy DeVito, thrust into the starting role thanks to Daniel Jones torn ACL, struggled as one might expect - throwing for just 86 yards on 14 completions. He did have 2 touchdowns, but posted a less-than-stellar 67.8 rating for the game. The Giants just never had a chance in this one. Dak beat up on another bad team at home, throwing for over 400 yards (mostly to Cedee Lamb), and 'America's team' extended it's home winning streak to 12.
Up Next:
Dallas (6-3) vs Carolina (1-8), Bank of America Stadium, 1pm EST
New York (2-8) vs Washington (4-6), FedEx Field, 1pm EST

Todd Kirkland/Getty Images
Kyler Murray returned from his ACL injury and led a game-winning drive to lead the Cardinals to victory over the Falcons 25-23 at home in the desert. On that final drive, he got loose for a spectacular 13-yard run that set up the game-winning field goal, showing the elite athleticism that makes him special. It's been 11 months since Muray has been able to pull one of those jaw-dropping moves but it didn't take him long to prove he's still got it. Atlanta has lost three straight , and six of its past eight, will limp into a bye next week. "We're frustrated - anybody would be when you come up short" Falcons coach Arthur Smith Said. "We have to fix what's been our issues and find a way to get in the win column."
Up Next:
Arizona (2-8) vs Houston (5-4), NRG Stadium, 1:00pm EST
Falcons (4-6) Week 11 bye week, New Orleans (5-5) in week 12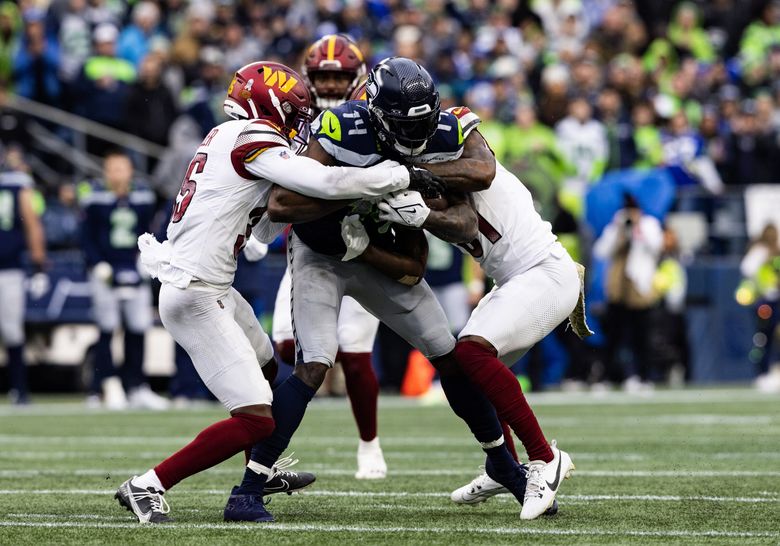 Luke Johnson/The Seattle Times
Geno Smith, the fourth quarter closer, was out in full form on Sunday. He led a pair of scoring drives late in the fourth, the second leading to Jason Myers' 43-yard game-winning field goal as time expired, and Seattle held off the Washington Commanders 29-26. Smith completed 9 of 11 passes on those two possessions and connected with Kenneth Walker III on a 64-yard catch-and-run touchdown in the third quarter, the longest play from scrimmage this season for Seattle. Howell and the Commanders did their part in trying to hand the Seahawks a second straight loss. Washington's signal caller pulled the Commander's even at 26-26 on a 35-yard touchdown pass to Dyami Brown with 52 seconds remaining. But that was too much time for fourth quarter Geno and the Seahawks, who got the last laugh.
Up Next:
Seattle (6-3) vs Los Angeles Rams (3-6), Sofi Stadium, 4:25pm EST
New York Giants (2-8) vs Washington (4-6), FedEx Field, 1:00pm EST
Ethan Miller/Getty Images
I don't know if this game or the Colts/Patriots affair was harder to watch, but either way it was an ugly bout in Las Vegas. in the end the Raiders hung on to beat the Jets 16-12 on Sunday Night Football. Give credit to Vegas' Coach Antonio Pierce. "It ain't going to be a shootout, I can tell you that." Pierce said on Wednesday, when he was asked about what he expected from the Raider's SNF clash with the Jets, he couldn't help but laugh. The Raiders improved to 5-5 and sit firmly in second place in the AFC West. Two weeks after their massive regime change, they're right back in the playoff hunt. It's only a two game sample size, but the Raiders have discovered an identity under Pierce. They've gone from being a largely rudderless to a team defined by toughness, physicality and grit.
Up Next:
Las Vegas (5-5) vs Miami (6-3), Hard Rock Stadium, 1:00pm EST
New York (4-5) vs Buffalo (5-4), Highmark Stadium, 4:25pm EST